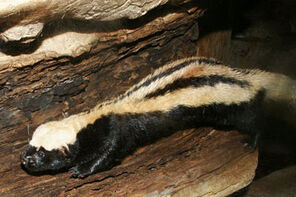 African Striped Weasels have a body length between 25 and 35 cms (10 - 14 inches), a tail length between 15 and 23 cms (6 - 9 inches) and they weigh between 225 and 350 g (8 - 13 oz). They are black in colour with a white patch on the top of their head that splits into white stripes that run along their back and join at the base of their tail. Their bushy tail is grey and if they are threatened they can squirt a fowl smelling fluid from their anal glands more than 1 m (3.25 ft).
African Striped Weasels mainly feed on mice and other small rodents. They will also occasionally feed on birds and eggs.
Ad blocker interference detected!
Wikia is a free-to-use site that makes money from advertising. We have a modified experience for viewers using ad blockers

Wikia is not accessible if you've made further modifications. Remove the custom ad blocker rule(s) and the page will load as expected.