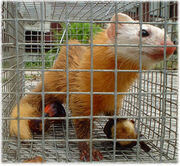 This species is found in southern Thailand, Malaysia, Indonesia (Sumatra, Borneo) and Brunei (Duckworth et al. 2006). Confusion about the existence of this species on Java is due to an error in the original description, which is occasionally still repeated today, e.g. by Wilson and Reeder (2005), where the holotype was said to come from Java (Duckworth et al. 2006). An individual from southern Thailand was collected at Khao Chong, Trang Province (Lekagul and McNeely 1977), also recently recorded records (about 5) extend the known range farther north (Specimen in Thailand Institute of Science and Technical Research), up to 10 degrees North Latitude (Duckworth et al. 2006). This species was recorded from Kerinci Seblat National Park in Sumatra in 1994, at altitudes of 400 m and 800 m (Franklin and Wells, 2005). Attitudinally wide-ranging, with records up to 1,700 m (Payne et al. 1985, Duckworth et al. 2006), with many records up to 1,400 m (Duckworth et al. 2006). There are wide-spread records of this species on Borneo, across the island both historically and recently, as well as on Sumatra (Duckworth et al. 2006).
Ad blocker interference detected!
Wikia is a free-to-use site that makes money from advertising. We have a modified experience for viewers using ad blockers

Wikia is not accessible if you've made further modifications. Remove the custom ad blocker rule(s) and the page will load as expected.