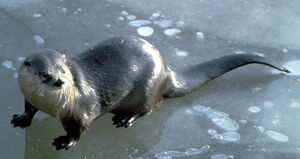 North American river otters occur throughout Canada and the United States, except for areas of southern California, New Mexico, and Texas, and the Mohave desert of Nevada and Colorado. In Mexico they are found in the delta areas of the Rio Grande and Colorado river. Otters were locally extirpated from portions of their range but reintroduction and conservation efforts have helped stabilize populations.
Ad blocker interference detected!
Wikia is a free-to-use site that makes money from advertising. We have a modified experience for viewers using ad blockers

Wikia is not accessible if you've made further modifications. Remove the custom ad blocker rule(s) and the page will load as expected.